Dale Earnhardt Jr debuts adidas JR apparel line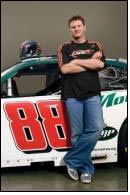 After months of research, development and design collaboration, Dale Earnhardt, Jr. will debut the adidas three stripes at the 2008 Daytona Speedweeks, which starts on Feb. 9 with the Budweiser Shootout and ends Feb. 17 with the year's premier NASCAR event Daytona 500. On Feb. 15, Dale Jr.'s exclusive adidas JR. Nation Gear will go on sale at Sports Authority available first in Daytona.

"I've been wearing adidas my whole life. It's who I am. Throughout my career I've been fortunate to partner with brands that fit my lifestyle, and adidas fits," explained Dale Jr. "I've been working with adidas on the design of a new suit and I'm wearing what we came up with at Daytona."

Dale Jr. continues to work closely with the adidas Innovation Team to create a race suit featuring ClimaCool technology. With extreme temperatures in the car, ClimaCool will keep Dale Jr.'s body temperature lower, ultimately combating fatigue and therefore allowing him to be more alert and responsive throughout the entire race.

"adidas' philosophy has always been to work closely with athletes and have them involved in the design process. Dale Jr. has been involved every step of the way providing feedback, comments and opinions," said Mark Clinard, business director for Motorsports, adidas America.

"Our ultimate goal is to help Dale Jr. perform at his maximum level and gain a competitive edge on the track. Along with the racing gear, Dale Jr. assisted in designing a complete adidas JR. Nation fan apparel line, which will provide fans access to the same ClimaCool technology that keeps him cool on the track."