Cherish your life with South Sea pearls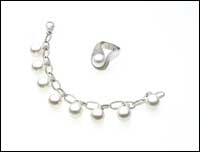 Paspaley, the pearling pioneer of the world and jeweller par excellence spreads a tempting array of rare, one-off pieces such as drop earrings, chandelier earrings, pendant chains, charm bracelets and rings combining an eclectic array of precious materials such as white gold, diamonds, rubies and the star of them all, its fabulous South Sea pearls.

Underscored by a design artistry that is unusual, each of these jewels displays Paspaley's well know prowess as a jeweller of merit sought by the world's most beautiful women.

"Paspaley once more proves its mastery with scintillating jewels for this season. The avant garde spread is sure to appeal to women who seek a different expression from the tried and tested with its defined flair that goes well with the aspirations of the young. This array of jewels is sure to be liked by the teen generation", said Mr. Tawhid Abdullah, Managing Director, Damas Jewellery.

It offers three fetching sets of earrings, two drop earrings and one chandelier earring featuring white gold, diamonds, rubies and awesome South Sea pearls. The first set inspired by a four-petalled flower, richly encrusted with pave diamonds, in a hollow cross-like pattern dangling one tempting pearl.

This in turn falls from a smaller, four-petalled stud of diamonds on its wearer's ear lobe. The dazzle of the stones is perfectly off set by the pearly luster of the gem from the sea, to make this a truly bewitching piece.

The second drop earring plunges longer by literally twirling down from its vertical stud, to dangle its precious merchandise, the South Sea pearl. Pave diamonds sparkle along the entire length of the jewel in this novel piece.