Unique benefits of the Lambency Sunscreen Lotion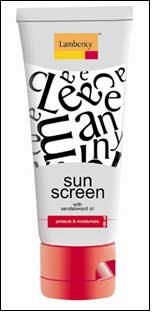 The fiery summer's heat is back & along with it comes the ultra-violet radiation of the sun. Much as we hide in air-conditioned rooms, it is impossible to escape the fury of the sun and the havoc it plays on our skin.

Sun exposure can lead to tanning and sometimes sunburn. Ultraviolet radiation from the sunlight causes the skin to sag and lose its elasticity. This leads to wrinkles. Excessive exposure to sunlight is also a known factor in causing skin cancer.

But do not worry there is a solution to every problem and there is a solution to this one also, Lambency a known brand of sandalwood oil based cosmetics has a sunscreen with a unique features of pure sandalwood oil.

Lambency comes from Floriana Group, the world's largest manufacturer of pure sandal wood oil. This leadership of the parent group in sandalwood oil gives Lambency an edge over all the other cosmetic brands in the market that claim to have sandalwood/oil in them.

A sunscreen, as the name suggests is your skin's protection or barrier against the harsh rays of the sun. The sunscreen lotion is used to prevent skin damage by blocking ultra-violet radiation and thereby promoting the production of melanin in the skin cells.

The SPF (skin protection factor) of a sunscreen is a measure of its effectiveness. The higher the SPF, the more protection a sunscreen offers, and the longer a wearer can remain outdoors in the sun.

Lambency sunscreen with sandalwood oil has a high index, 30, the highest among sunscreen lotions currently available in the market.