Vision-X to come with high fashion & glamour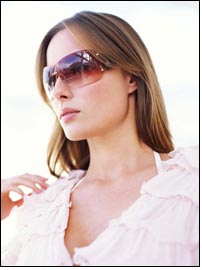 International fashion brands will premier some of their latest eyewear collections at Vision-X Dubai 2008, the region's premier business platform and conference for the optical and ophthalmic industry.

With strong demand for the latest in fashion frames and sunglasses in the region, leading companies are increasingly viewing the Middle East, and Dubai in particular, as a key strategic location to promote major collections.

Dubai World Trade Centre, organiser of Vision-X Dubai 2008, is introducing a number of new visitor features, including the inaugural Vision-X Dubai Fashion Show.

This prestigious event will run twice daily throughout the exhibition from 18–20 February 2008, showcasing new eye wear collections from a number of top international brands.

Trixee Loh, Exhibitions General Manager, Dubai World Trade Centre, said: "By launching the Vision-X Dubai Fashion Show, this new interactive element provides exhibitors with an important platform to demonstrate their latest collections to industry visitors.

Ongoing innovations such as the fashion show help to increase the visitor experience as well as reinforce the strategic positioning of the event for the entire industry."

Egma Lens Factory will present new collections from Porsche Design and Rodenstock whilst Puma and Lacoste will be unveiled by Euphoria Trading. Concluding the programme is PMI showcasing Davinci, Venecia, Rudy Project and Serengeti Eyewear.

As part of Vision-Lifestyle, a new sub-brand of Vision-X Dubai that caters specifically to the fashion industry, the catwalk shows will take place at 12 noon and 4 pm on the first two days (18-19 February) and 12 noon and 2pm on the 20 February.