Igedo Fashion Fairs receives solid response from retailers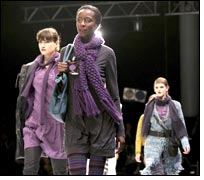 The Igedo Fashion Fairs Düsseldorf (10 to 12 February) coming to a close on Tuesday have continued their upward trend and are consolidating their position as one of the most important fashion fairs in Europe.

According to preliminary estimates, a total of approx. 33,500 specialist buyers from 59 countries attended the four fairs CPD Düsseldorf (women's fashion), HMD – Herrenmode Düsseldorf (menswear), Body Look (body, beach and legwear) and Global Fashion (sourcing).

This means the number of visitors at the Düsseldorf exhibition centre rose by almost 10% over last year's event. Added to this are the 9,500 visitors to the dfh – Düsseldorf Fashion House now to be calculated separately as from this year. Beyond this an estimated 20,000 visitors came to the different showrooms around the city.

However, counting even more than visitor numbers in exhibitors' eyes was visitor quality: almost one in three buyers came to the Igedo Fashion Fairs from abroad – a rise of 3%. The number of buyers from specialist retail rose by 5% to 57%.

The key countries of origin here were the Benelux, Austria and Switzerland as well as Spain, France and Russia. A total of 2,150 exhibitors and collections were featured here presenting the trends for the 2008/2009 Autumn/Winter season.

"Despite the relatively late date and the clash with the Copenhagen fairs Düsseldorf and the Igedo Fashion Fairs have brilliantly demonstrated that they are and remain the first choice for the German and central European market," stressed Igedo CEO and President Frank Hartmann.