Panasonic store gives tips for lifestyles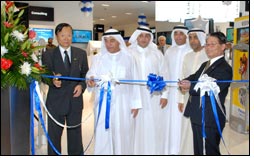 Al-Futtaim Panatech, the exclusive distributor of Panasonic products in the UAE and a member of the Al-Futtaim Group, launched the new Panasonic concept store at an official ceremony attended by Mr. Abdullah Al-Futtaim, Chairman of the Al-Futtaim Group, the CEO of Al-Futtaim Group, Mr. Omar Al-Futtaim, Panasonic Managing Director, Mr. Hitoshi Otsuki and Mr. Tomita Masato, Executive Director, CIMA for Panasonic.

Amongst a host of dignitaries from the UAE and Japan, Mr. Otsuki and Mr. Al-Futtaim jointly cut the ribbon opening the store, representing the 35-year relationship between Panasonic and Al-Futtaim.

Located on the Skywalk Entertainment Level on the third floor of Festival Waterfront Centre at Dubai Festival City, the 10,000 square foot store is the sixth Al-Futtaim Panatech outlet in the UAE and the first to provide a full 360º experience of Panasonic technology.

Marketed under the theme 'Living in High Definition', the concept provides customers with the latest in cutting edge technology across the entire Panasonic product range in one central location.

From white goods to home office automation, security systems, air conditioning units to simple beauty products such as hair dryers, these products are all available at the new store. Key to this concept is the ability for customers to experience these products prior to purchasing.

This 'hands on' consumer experience at the store is enhanced through 12 interactive zones that demonstrate the cutting edge technology Panasonic has built its industry leading reputation upon.

Key technologies and products showcased include the superior plasma technology introduced for the first time in the region, the environmentally friendly lead-free Viera television and the class-leading Blu-ray technology featured on the world's largest 103" plasma screen.

Customers can also experience a working Panasonic kitchen, as well as a range of market-leading white goods such as refrigerators, washing machines, vacuum cleaners, irons and microwave ovens.

Additionally customers can relax amongst the leading range of Japanese health and beauty products including massage loungers and innovative buckaroo style Joba Core fitness trainers.