'Print on Demand' garment printer at Sign & Graphic Imaging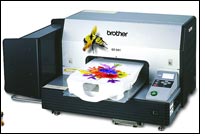 Brother Gulf, a global leader in printing, communication and digital imaging products and a subsidiary of Brother Group, Japan, has announced that it will unveil its new GT-541 'Print on Demand' garment printer during the Sign and Graphic Imaging Middle East 2008 trade show, which will be held from February 17-19, 2008, at the Dubai World Trade Centre. The unique printer is faster and more efficient compared with traditional screen-printing methods.

The GT-541, which can print images from a PC or built-in compact flash card reader, features an adjustable platen, which holds the garment in place for printing.

The printer can print images on most garments in full colour with a large 14-by-16 inch printable area, is very simple to operate, and consistently prints in high-resolution quality.

Its durable water-based inks can undergo repeated washings and can be cured by a standard heat press, thus eliminating the need for a conveyer dryer.

The GT-541 garment printer is ideal for screen and quick printers, one-hour photo shops, event planners, premium suppliers and apparel printing small and medium enterprises.

Shinji Tada, Managing Director, Brother Gulf, said, "We have created a revolutionary garment printer that will allow users to print directly from a PC or flash card, minus the setup intricacies and high costs of traditional screen printing machines.

The entire printing and fusing process takes around a minute per garment; this pioneering product thus makes the printing of a few pieces of t-shirts per order economically viable.