Modern jewellery collection 'Art & Antiques Dubai'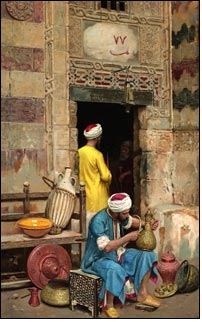 Final preparations are underway for the inaugural 'Art & Antiques Dubai' fair taking place 21-24 February 2008, with international gallery owners in attendance predicting that the Dubai event will soon be among the finest of its kind anywhere in the world.

Major organizer Haughton International Fairs will offer connoisseurs and buyers in the region an unparalleled opportunity to view and purchase a selection of the world's finest art and antiques which exceeds USD 215 million in total value.

'Art & Antiques Dubai' will be held under the patronage of His Excellency Abdul Rahman Mohammad Al-Owais, UAE Minister of Culture, Youth & Community Development, along with the full support of Dubai Tourism and Commerce Marketing.

"There are a great many people who have been waiting a long time for a fair like ours to take place in the Middle East, and now it is upon us. We are all excited for gallery owners to meet with the region's top buyers and art enthusiasts," says Giles Haughton, organizer of 'Art & Antiques Dubai'.

Fair highlights include signature art works from Henry Moore and Picasso; 17th century royal porcelain; an Orientalist painting by John Singer Sargent worth USD 13.5 million; and high value jewelry collections from Cartier and Harry Winston.

The fair expects to attract more than 10,000 visitors from across the GCC with large segments of art buyers arriving from KSA, Kuwait, Bahrain and Oman.

Collecting categories scheduled for display include Islamic works of art; silver; antique and modern jewellery; rare porcelain and ceramics; a broad range of furniture and decorative arts; and fine art, including Middle Eastern, Indian, and Western paintings, drawings, and sculpture. International Galleries to Participate in Inaugural 'Art and Antiques Dubai'.

The exhibitor list participating includes:
Rami Abboud International (Lebanon, USA, Paris) with contemporary jewellery; Art Asiatique SARL (Marseilles) with Chinese ceramics and works of art; Art Gallery Atelier 17 (Moscow) with 20th century paintings, enamel, silver, Fabergé, Art Deco bronzes and 19th century Russian ormolu furniture; Ayyam Gallery (Damascus) with modern and contemporary Syrian art; Bazaart (London) with rare, early Italian maiolica and contemporary Italian ceramics; Berry-Hill Galleries Inc(New York) with 18th, 19th and 20th century.