Colourful World wins Craftsmanship & Technology Award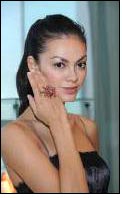 Results of the 9th Hong Kong Jewellery Design Competition were announced at a press briefing for the Hong Kong International Jewellery Show.

Under the theme of "Colour of the World", winning designs of the Open and Student Group stood out from 400 competition entries, presenting joyful and energetic jewellery styles for the modern woman.

"A thriving creative spirit is a crucial factor in Hong Kong's continued success as a leading jewellery design centre.

This competition aims to encourage more creativity in the Hong Kong jewellery industry, as well as provide an opportunity for talented designers to demonstrate their brilliance," said Raymond Yip, Assistant Executive Director of the Hong Kong Trade Development Council (HKTDC).

Entries are judged by their creativity, marketability and wearability. Judges of the competition include: renowned TV programme host Jaclyn Chu, acclaimed designer Judy Mann, jewellery industry representatives Stella Lee, Charles Chan and Lawrence Ma; watch and clock industry representatives Alex Chau and Joseph Chu; and a representative from the education sector Alex Fung.

The three Best of Show awards were won by "Blaze" designed by Law Ka Kin, "Star Crown" designed by Leung Hong Lam, and "Colourful World" designed by Vicki Li.

"Colourful World" also won the Craftsmanship & Technology Award. "Colourful World", a brooch crafted with ambers and emeralds in the colours of the spectrum, was inspired by flower bouquets.