Parmigiani Boutique to house the most prestigious timepieces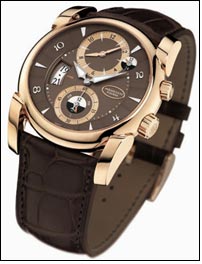 Damas, the leading international watch and jewellery retailer in the Middle East, has embarked on a wonderful adventure with Parmigiani Fleurier to open the luxury watch brand's first signature shop located in Wafi Mall – one of Dubai's major luxury destinations.

Parmigiani Boutique Dubai is poised to become a true connoisseur's delight as it offers some of the world's most celebrated timepieces.

Speaking during the press conference to mark the occasion, Michel Parmigiani, CEO of Parmigiani, commented: "Due to the constantly growing success of the Parmigiani Fleurier brand in the UAE over the past few years, thanks to the know-how and expertise of our representative, Damas; Parmigiani Fleurier felt obliged to offer its followers a prestigious location where comfort, elegance and refinement would be fully dedicated to the spirit of the brand."

Tamjid Abdullah, Deputy Managing Director of Damas, raved: "We are very pleased that one of the world's top watch brands has teamed up with Damas to set up its first stand-alone shop here in Dubai.

The Parmigiani Boutique will house the most prestigious timepieces which are the outcome of over 100 production steps in the hands of expert watchmakers."

"The latest collections will highlight the best Swiss watchmaking traditions, cutting edge technology and innovative design.

Our highly selective clientele in the country cannot expect anything less from this remarkable Swiss watch brand which may be young in years but long in tradition."

The new boutique captures the true spirit of Swiss horological excellence by presenting impeccable design features. Its lavish setting offers the privilege of admiring the brand's most beautiful timepieces in complete confidentiality.