Hussein Chalayan as Creative Director for PUMA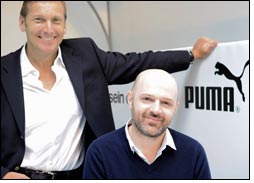 Sportlifestyle company PUMA announces that it appointed Hussein Chalayan, a global designer, artist and film maker, as the Creative Director for PUMA with immediate effect, responsible for designing, creating and developing the sport fashion collections of the brand.

PUMA also acquired a majority stake in Chalayan's London-based fashion business and brand Hussein Chalayan. Through this long-term partnership with PUMA, Chalayan will have the opportunity to grow his ready to wear fashion collections.

"Hussein Chalayan is a proven visionary in the fashion, design and art industries. As our Creative Director for our Sport Fashion business, Chalayan will bring his use of new technology, forward-thinking design and provocative point of view to PUMA," said Jochen Zeitz, Chairman and CEO of PUMA.

"Acquiring majority shares of the Hussein Chalayan brand is giving PUMA the ability to move into a new space, expanding our reach to become the most desirable Sportlifestyle company in the world."

In his position as Creative Director, based in London, Chalayan will be responsible for all creative direction for PUMA Sport Fashion collections and will touch all product categories including footwear, apparel and accessories. Chalayan will work hands-on with all PUMA respective design teams worldwide.

PUMA will support Chalayan to grow his brand worldwide, using guidance, resources and infrastructure from PUMA's parent company PPR and giving the Hussein Chalayan brand a better opportunity to evolve in the retail environment. His influence will be initially reflected in the fall 2009 collections.