Artificial jewelry prospers internationally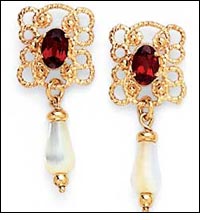 Exorbitant increase in the price of gold has actually given momentum to the artificial jewelry industry of Pakistan. Women in the country have switched over to ornaments other then those made of the glittering metal.

In fact, even gold-jewelry makers have started installing sophisticated machines for manufacturing exquisite artificial jewelry. Most of these artisans are content with this changing trend, since the industry is not only doing well, it is virtually thriving.

To the extent that the demand for these artificial Pakistani jewelry has increased even in countries like USA, Canada, UK, Africa and Gulf states which will now be considered as potential markets for these products. High quality and attractive designs have been the key factors inducing exports to EU.

Reports reveal that Pakistan annually exports about Rs200 million worth artificial jewelry. This has been followed by an increased use of gold and silver plating for manufacturing imitation ornaments.

The trend has proved to be so positive and encouraging that with Governmental assistance, Pakistan could actually dominate the world-market for artificial jewelry.