Nuance opens 24th cosmetic store at Singapore's Changi Airport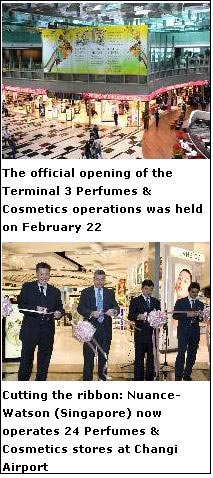 Nuance-Watson (Singapore) officially opened its ultra-modern Perfumes & Cosmetics stores at Singapore Changi Airport's new Terminal 3 on February 22. Celebrating the official event, Mr Roberto Graziani, President and CEO of The Nuance Group, and Mr Andrew Miles, Regional CEO of A.S. Watson & Co. Limited, were in Singapore to declare the new S$4.5 million stores opened.

Nuance-Watson (Singapore), by far the biggest beauty retailer in Singapore in terms of sales, number of stores and brands on offer, operates at all four terminals of Singapore Changi Airport.

Priding itself as the launch pad for all things surrounding beauty, exclusiveness is one factor that Nuance-Watson plays up on and is notably visible at the new T3 stores. Nuance-Watson has brought in a good number of beauty brands and products that are unavailable at other airports in Asia-Pacific or at local downtown stores. Among others, the list includes Victoria's Secret Beauty, Becca, Botlux, Bellefontaine, Benefit Cosmetics and Amouge fragrance.

Mr Ken Tse, Managing Director of Nuance-Watson (Singapore) said: "Our approach is to have the widest possible range of brands and price points, recognizing the diverse personalities and desires of our customers."

Constant innovation at the core of the offer:
Serving approximately 1,500 local customers every day, Nuance-Watson invests considerably into differentiating its offer from the local market. One feature is the La Prairie mini treatment room in Terminal 3, where shoppers can enjoy luxurious caviar-based skincare before they fly.