Tommy Hilfiger launches Dreamingaboutyou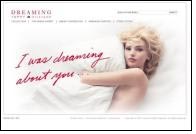 Fragrance-loving dreamers looking to share their dreams or get inspired to make them come true have a new destination: Dreamingaboutyou.com.

The site goes live and is in collaboration with the launch of the new women's fragrance, Dreaming Tommy Hilfiger. A fragrance concept inspired by the luxurious feeling of escaping into a fantastical dream, Dreaming Tommy Hilfiger debuted in stores February 2008.

As visitors log onto dreamingaboutyou.com they will be enveloped in beautiful imagery as well as song. Jason's Rowe's, "The Dreaming" which is also featured in the TV commercial, was written especially for this fragrance.

Visitors to the website will also find:
Dream Expert Dreams are the product of our imagination and creativity. So what do you dream about? Dreamingaboutyou.com includes an interactive, exploratory experience where dreamers will be able to submit their dreams to Craig Webb for the opportunity for a personal interpretation.

Each week three dreams and their interpretations will be chosen to be featured on the site. In addition, one day a month, visitors will have the opportunity to make an appointment to have Craig interpret their dream live over the phone. This feature will go live on March 17th.

Dream Interpreter For visitors whose dreams are too personal to share with the world, they will be able to use the automated dream interpreter.

A special feature in this section, which will also be available on March 17th, allows visitors to receive automated dream interpretations via keywords they submit regarding their dreams, as well as forward their dream interpretation to a friend.