Surefire way to stand out with season's hottest looks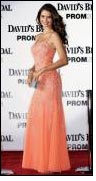 With glamorous, celebrity- inspired fashions all the rage, teens are eager to plan their very own "red carpet" look for prom.

But how can they create their own signature style like A-listers? Nigel Barker everyone's favorite "America's Next Top Model" judge and leading fashion and celebrity photographer is lending his eye to David's Bridal as their prom spokesperson to ensure girls are camera- ready in every way.

Not only does Nigel offer insight into the season's hottest fashion trends, straight from the runway and the red carpet, he also shares his expert advice on how to achieve a "picture-perfect" prom.

"Prom night is a once-in-a-lifetime event for teens, so it's important for girls to find a dress they look good and feel confident in," says Nigel.

"David's stylish prom collection is inspired by the looks seen on our favorite celebrities, yet completely affordable, so girls really have the freedom to create their own standout style with their favorite colors, silhouettes and accessories."

What's the ultimate way to get noticed at the prom? Sizzle on the dance floor in a colorful, eye-catching gown that shows off your individuality.

This season's vibrant color palette ranges from stunning metallics and brilliant brights to muted jewel tones and black and white classics.

The key is to find a hue that not only works well with your hair and skin tone, but allows you to make a style statement befitting the glamour girl that you are.

A surefire way to stand out in the crowd is to pick a silhouette that will flatter your curves and create that red-carpet-ready look.

Whether you opt for an embellished ball gown, dramatic one-shoulder dress, glamorous trumpet gown or short, flirty frock, picking a style in a high quality fabric will help flaunt your best features and guarantee a flawless figure in a photographer's lens.

Stretch satin, organza, taffeta, jersey and charmeuse are the top picks of the season, with ruching and ruffles acting as the icing on the cake.