Paul Frank & Creata to work together for new product categories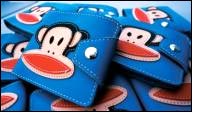 Paul Frank Industries granted exclusive global licensing rights of the Paul Frank brand to Creata, leaders in brand management.

After ten years in business, Paul Frank Industries is now poised for growth into new product categories.

Through licensing partnerships and creative alliances, Paul Frank industries and Creata will work together to extend the reach of the Paul Frank brand and beloved icons to fans worldwide.

"From humble and entrepreneurial beginnings, Paul Frank Industries has reached a level of status and opportunity that far exceeds its current operations," Mossimo Giannulli, co-owner of Paul Frank Industries.

"Creata has a proven track record in licensing and promotions that is unmatched in brand development. I'm excited about growing and fully maximizing the potential of our emerging and iconic brand."

Paul Frank and Creata will concentrate on the brand's core strengths and immediately roll out licensing partnerships in categories that Paul Frank Industries currently services.

Creata will then be responsible for seeking licensing opportunities in diversified brand extensions, offering exciting new Paul Frank products to fans around the world.

The design and marketing team at Paul Frank will continue to focus on brand development, with support from the global team at Creata.

Paul Frank Industries will maintain operation of the Paul Frank retail stores with plans for ongoing roll out of additional global locations. Paul Frank's boutique, specialty chain and major department store distribution model will remain the same.