'Reflections of Beauty' for Mercedes-Benz by Davis Factor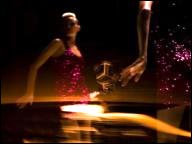 Mercedes-Benz has been connected with artists for decades - Andy Warhol in the 80's, Hiro Yamagata in the 90's, Georgio Armani earlier this century and whether the work is commissioned or simply inspired, the outcome is always unique and memorable.

When Mercedes- Benz committed to all three major fashion shows in the US, Davis Factor, noted fashion photographer, Chief Creative Officer and co-founder of Smashbox Cosmetics and Studio Services, was selected to combine the Mercedes-Benz silhouette with that of high fashion.

"Davis was the natural choice for the Mercedes-Benz fashion campaign," says Lisa Holladay, Manager of Brand Experience Marketing for Mercedes-Benz USA.

"He's a celebrated photographer, is passionate about the fashion community, and has been familiar with our vehicles for many years."

The collection is comprised of stunning visuals that have become the backdrop for the Mercedes-Benz Fashion Week Newsgroup Web site, as well as the online and direct marketing materials.

"Reflections of Beauty" will be displayed at all five fashion weeks in New York (February and September), Miami Swim (July) and Smashbox Studios/Los Angeles (March and October), with different images to compliment each event's designers, styles and vehicles.

"I am truly honored to be the official photographer of the 'Reflections of Beauty' series for Mercedes-Benz," says Davis.

"Based on the theme, I really wanted to blend beauty and fashion with the automobiles using reflective surfaces and light to create a modern feel."