AWI associates with L'Oréal Designer Awards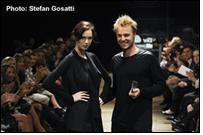 Australian Wool Innovation (AWI) is proud to announce its support for emerging Australian designers with the L'Oréal Melbourne Fashion Festival (LMFF) Designer Award presented by Woolmark.

The award was presented last night to 300 key fashion industry representatives and media at Melbourne's Central Pier at the Docklands. Guests included The Hon Minister Theophanous, Naomi Milgrom Executive Deputy Chair of the LMFF Board of Directors, John So Lord Mayor of Melbourne and Grant Pearce Editor of GQ Magazine.

The winner was Friedrich Gray. This Sydney based label is the brainchild of designer Ben Pollitt. Since March 2006, Ben has been fleshing out his alter ego, a character whose journey runs parallel to the vision of the designer and is played out in each season's range.

Australian Merino wool plays a major role in the Friedrich Gray 2008 Winter Collection, 'So We Dug a Tunnel'. Superfine woollen jersey makes the statement in unisex singlets, cardigans, leather embodied tops, all signature pieces of the collection. Due to the flexibility and weight of the wool, shoulder and sleeve panels provide movement whilst providing a visual element unique to the collection.

Along with a $10,000 cash prize, the winner of the 2008 LMFF Designer Award was presented with a prize that money cannot buy: a package including airfare and accommodation to Europe where they will be introduced to the best spinners, knitters and mills in the world from the most prestigious names in Italy's textile industry including Cerruti, Ermenegildo Zegna and Zegna Baruffa.