Damas unveils Mother's Day Pendant Collection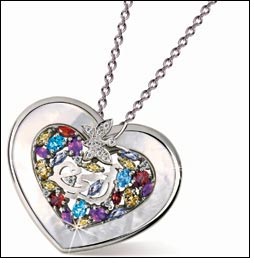 Damas, the leading international jewellery retailer in the Middle East, unveils two stunning in-house creations that symbolise universal love for the woman that brought you into the world.

Expertly crafted in the most precious materials, the stunning pendant chains evoke the deepest emotions in every detail, making them fitting presents this Mother's Day.

Tawhid Abdullah, Managing Director of Damas, said: "We are pleased to present the limited edition Damas Mother's Day Collection to those who are in search of the perfect gift for mothers this season.

The new collection makes this occasion truly special as we adorn our beloved mothers with memorable creations that will forever remind them of our eternal love."

The Special Mother's Day Diamond Pendant with chain is created in 18ct white or yellow gold. It is highlighted with choice diamonds, mother of pearl and adorned with semi-precious stones such as citrine, peridot, amethyst, rhodolite and blue Topaz.

Every detail in the exquisitely crafted piece evokes special meaning. Take for instance the heart shape and elegant engraving that reads 'Mother' in Arabic calligraphy that celebrate mothers' pure and unconditional love.

The coloured stones signify a garden in spring that brings happiness while the diamond-encrusted butterfly represents prosperity.

The poetic assemblage is surrounded by mother of pearl which connotes 'Mother Nature' and 'Mother of All'. Taken as a whole, the pendant chain represents that special bond of love that we and our mothers share.