Mille Rostock ready to create rage at DFW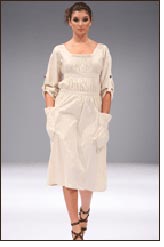 Dubai Fashion Week (DFW), a feast for fashionistas, is scheduled from March 16 to 20. The upcoming fall winter 2008 edition, will provide a perfect runway to budding as well as established designers for showcasing their outstanding creations.

Dutch designer, Mille Rostock had launched her brand two years ago in Dubai itself, and is now ready to display her latest collection on last day of fashion week.

Rostock is known for her feminine, sophisticated, sensual designs mixed with luxuary and unusual detail. Her delicate designs, have ultra modern look with an international appeal. She gives importance to elegance which gets highlighted through perfect cuts and lines. Striking geometrical patterns and focus on quality and volume is her forte.

This fashion line of Mille comprises of skirts and jackets, tailored out in black along with shades of grey with slight hints of white to give a subtle look to garments. Dresses are so beautifully designed that waistline gets highlighted, making it look ultra feminine.

Fashion lovers are eager to have a glance of stylish creations by Mille Rostock. The designer is confident enough that she would be able to set trend for this season by providing wearable garments to fashion conscious women.