Four day event celebrates fashion & glamour in Dubai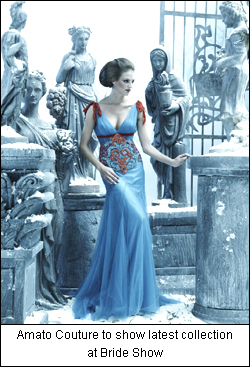 The largest and most prestigious bridal exhibition comes to Dubai in April with fashion shows, professional beauty demonstrations, and a wide range of exhibitors ensuring a fashion filled and fabulous week.

Taking place from 23-26 April in Za'abeel Hall at the Dubai International Exhibition Centre, the event will host 20 fashion shows, with local and international designers demonstrating their eagerly anticipated collections as well as the creations devised by the finalists of the prestigious Swarovski Young Designers Award.

Highlights at the show will include a collection from India's leading celebrity fashion designer and style icon, Manish Malhotra, who will be showing a range of specially designed Sheilas, Abayas and Jalabiyas.

Another fashion favourite, Amato Haute Couture, whose collections are filled with beautiful lace and crystals, will be taking the stage on the last night of the event. Furne One, the owner and creative director of Amato Couture, who has trained in New York and Paris, will be displaying his latest collection as well as his new Prêt-Couture line.

Not only will professional designers throughout the region be flaunting their unique creations, but amateur designers and fashion students will be showcasing their wedding dress designs as part of the competition for the much coveted Swarovski Young Designer Award.

Showing on the final day of the exhibition, The Swarovski Young Designer Award pushes contestantsto the limit. This year entries will be taking 'The Art of Intimacy' as their source of inspiration. The unique wedding dress creations shown in a glamorous catwalk show will be assessed by a panel of judges formed by eminent personalities in the fashion industry in the UAE. Visitors to the show will also have the opportunity to vote for their favourite dress.