Palm Beach to hold luxury fashion show on March 22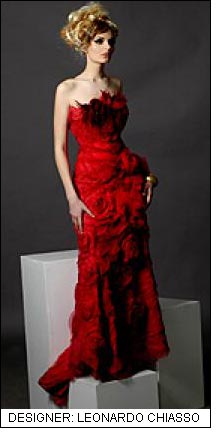 A Date with Luxury in Palm Beach Fresh from the latest round of successful fashion shows in New York City, the producer of Couture Fashion Week will be introducing the event to the upscale Palm Beach, Florida market on Saturday, March 22, 2008. The luxury fashion show, reception and art showcase will be held at the elegant new Trump Tower development.

Guests will have an opportunity to meet the designers, network with sponsors and purchase exquisite one-of-a-kind fashions, accessories and art on the spot. Among the fashion designers scheduled to show at the exclusive event are Leonardo Chiasso, Diana Dorozkhina, Lily Samii and Andres Aquino.

"The body is the space to work the architecture that is my clothing," says Leonardo Chiasso whose architectural training is evident in his fashion designs. The Brazilian designer has created an entire couture collection based on intricate geometrical forms and female sensuality invigorated with a large variety of colors.

His dresses feature three-dimensional textures enhanced with the delicacy of handcrafted flowers, petals, fabric patches and other adornments. Gowns are composed of flowing yet structured fabrics wrapping the feminine silhouette.

Award-winning designer Diana Dorozkhina has shown her inspired creations in Russia, Belgium, France, Italy, Monaco and Palm Beach, as well as in her native Ukraine.

San Francisco-based designer Lily Samii, who has worked with such industry icons as Edith Head and James Galanos, introduces "Fresh", the new youth-inspired couture collection. The collection features classic silhouettes given a daring, modern makeover. A multitude of unexpected seams and shapes excites the eye and flatters the body. This season's collection is edgy and striking, form fitted and seducing, beautiful and elegant.