Damas brings Maison Favre-Leuba timepieces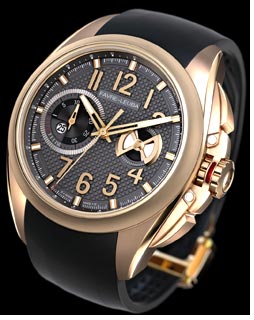 It is an extra-thin twin-barrel movement with a centre second hand and 50 hours of power reserve. It was a good 30 years ahead of its time when first created.

The latest collection stands out for its unique design and distinctive features specific to the Maison and is part of a long line of truly unique timepieces, bearing witness to Favre-Leuba's unceasing obsession for perfection."

Favre-Leuba has been creating technically sophisticated watches with regular intervals, which became runaway success when they first appeared. For instance the brand launched 'Bivouac' in 1962, the first wristwatch with an altimeter and barometer function.

It was an instant hit and became a must for major expeditions of the time. Paul-Emile Victor used it in Antarctica and Vaucher and Bonatti for conquering the north face of the 'Grandes Jorasses' in the Alps. Many others followed in their footsteps.

In 1964 the first diving timepiece, Deep Blue was launched which was waterproof to 200m. In 1966 came the legendary Bathy, a unique watch gave divers not only a precise indication of their time under water, but also a direct and accurate reading of their actual depth.

The Sea Raider followed in 1970 with a true techno-logical break-through. Their first high frequency movement of 36,000 vibrations per hour gave the watches unparalleled accuracy.

THE MERCURY COLLECTION:
Mercury, the name given to the new Favre-Leuba collection, is inspired by two unique events – the birth of the Favre Manufacture in Le Locle in 1737 and the eclipse of the planet Mercury by Venus in the same year.

All models of the Mercury collection are fitted with the automatic Favre-Leuba calibre driven by the wearer's movements.

Individual versions are available, but all have one thing in common – perfection in every detail. Each Mercury watch is handmade by Favre-Leuba master-watchmakers.

The exclusive collection of Maison Favre-Leuba is available at Damas Les Exclusive Boutiques in Saks Fifth Avenue, Burjuman; Wafi Boutique and Mina A' Salam.