Cozy, comfy gift ideas for Mother's Day by KN Karen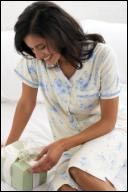 This Mother's Day forget the flowers and aim for an unexpected gift alternative. Moms of all kinds are looking for a comfort-inspired gift and one that highlights a personal comfort, interests and style.

From the expectant mom who will be enjoying motherhood for the first time this year to the green mom who is looking for the best eco-conscious gift around, gifts from the KN Karen Neuburger lifestyle brand will delight and surprise any mother this holiday.

For the Expectant Mom ...
Breathable KN Cool Maternity Sleepwear helps keep moms-to-be comfortable at night. Especially during pregnancy, a good night's sleep is crucial to an expectant mother's health and that of her unborn baby. It's never been easier to sleep through the night with KN Cool a smart, stylish line of maternity pajamas.

For the New Mom ...
KN Karen Neuburger brings the ever-popular and ever-cozy lounge socks to newborn babies' feet. The Plush Infant Socks are the perfect treat in blue or pink for the future spa girl or all-star boy.

For the "Green" Mom ...
KN Luxury Home Bamboo Sheets feature super soft blend of eco-friendly bamboo and soft cotton, for the ultimate night's sleep, all while leading the way in "green" living luxury.

For the Sporty Mom ...
KN introduces KN Cool Daywear, a new line of intimates that features matching camisoles and panties. Made with an innovative Pima cotton-rich blend with elastane, the KN Cool fabrication is an extremely lightweight and sleek material that wicks away moisture, keeping the skin dry, cool and completely comfortable for any mother who is active and on the go.