Eco-friendly Dr Scholl's sandals hits the market with a bang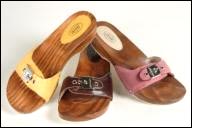 Just three months after its introduction, sales of the eco-friendly version of Original Dr. Scholl's Exercise Sandals have translated into nearly 1,000 newly planted trees, as part of the brand's partnership with Trees for the Future to plant 10 trees for each pair sold.

Original Dr. Scholl's Exercise Sandals have been recognizable since the 1950s for their signature buckle and raised toe bump, designed to exercise the calf.

For spring 2008, the brand introduced the Renew, a version of the Original Exercise Sandal made of sustainable, biodegradable and recycled components.

The sandal appeared on The Rachael Ray Show in a March 28 green product segment, and was featured in the February issue of People StyleWatch.

The environmentally friendly Renew includes a biodegradable corn outsole, recycled metal buckle and straps made from hemp or vegetable-tanned leather, a more eco-conscious tanning process.

The foot bed is constructed of sustainable Brazilian wood, and the makers of Original Dr. Scholl's have partnered with environmental organization Trees for the Future to plant 10 trees in a deforested area of Brazil for each pair sold, with a goal of planting 50,000 trees.

Trees for the Future helps people in developing countries by planting multi-purpose, fast-growing, ecologically appropriate tree species tailored to each community's specific needs.

"We offered consumers a 'sneak peek' at the Renew in December on our web site, DrSchollsShoes.com, and it quickly became one of the most popular shoes on the site," said Original Dr. Scholl's General Manager Rusty McClintock.