TAG Heuer to celebrate Maria Sharapova's 21st birthday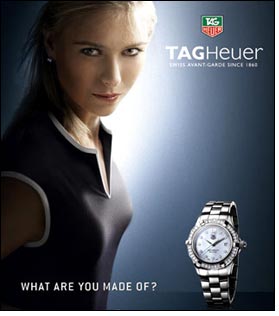 The fashion and entertainment elite came out to celebrate Maria Sharapova's 21st birthday last night at a party hosted by luxury watch brand TAG Heuer.

The festivities took place at New York hotspot Tenjune where celebrity DJ Cassidy fresh from his turn behind the tables at Jay-Z and Beyonce's post-nuptial soiree was on hand to spin the tennis champion's favorite dance tunes.

The invitation-only event for the three-time Grand Slam winner drew several celebrities including Michelle Trachtenberg and Dave Annable.

Vogue's Anna Wintour also made an appearance at the party, along with designers Vera Wang, Doo.Ri and Brian Wolk and Claude Morais of Ruffian.

TAG Heuer President and CEO Ulrich Wohn welcomed Sharapova's friends and family and toasted the 21 year-old before presenting her with an elegant white and pink eight-tier cake.

"Maria is part of the TAG Heuer family and we are honored that we were able to celebrate this special day with her," said Wohn.

"To have accomplished so much by this age is truly amazing and the embodiment of TAG Heuer's 'what are you made of?' principle."

"I couldn't think of a better way to celebrate my 21st birthday than being in New York with all of my close friends," said Sharapova.

Guests sipped cocktails including the pink "Grand Slam," a specialty cocktail made in honor of Sharapova and grooved the night away to Cassidy's unique blend of hip hop, rock 'n' roll, reggae, soul and rock.