Damas unfurls exclusive Hysek watches in Dubai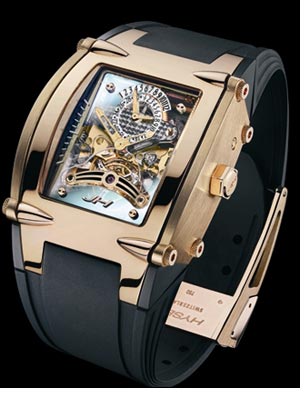 Damas, the leading international jewellery retailer in the Middle East, unfurls the exclusive Hysek timepieces in Dubai which were launched during Baselworld recently.

Hysek has always been an avant-gardist and a typical brand which heckles and dares the difference.

Its philosophy is to imagine and create objects with strong personalities which ally a refine and high-tech style for customers eager to own singular objects.

Commenting on the latest brand, Tawhid Abdullah, Managing Director of Damas, raved: "The brand Hysek is recognised for its creativity and exclusive typology which has enriched the traditional sector of the Swiss watchmaking industry.

The Hysek concept is characterised by very creative models, with singular and distinctive cases. The brand has created its own manufacture and introduced its first tourbillon with amazing features at Baselworld this year.

Thus we are proud to bring the same stunning collection to Dubai which will surely please watch collectors and connoisseur."

The main features of the Hysek identity are not only the dial displaying numbers 1-5-7-11, but also the fold-over buckle, and exclusive design of the brand in perfect harmony with the case.

This year the brand has introduced six new lines with a strong design which reflects Hysek spirit, superior identity and a unique personality.

Abyss Tourbillon:
Hysek's Abyss Tourbillon - a complicated watch – is introducedthis year. This model is a visual and technical marvel and presents a power reserve and a big date.

The date's disc is visible behind a marvelous sapphire dial which covers half of the tourbillon, housed in a splendid case in titanium. It comes in the limited edition of 30 pieces.

Abyss Dual Time Limited Edition:
This model presents a double GMT, the horns, crown protection and bezel blocking system are in titanium and the unique dials stamped with Hysek impress providing a more sportive touch to the watch.