Damas introduces Italian Io Si collection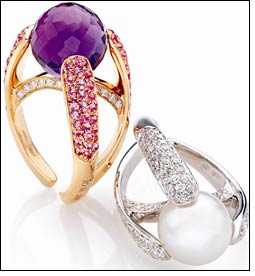 Damas, leading jewellery house of Middle East, launched the latest and cutting edge creations of Italian jewellery brand Io Si which were recently featured in the Basel Fair 2008.

The highly popular brand, which is part of the Italian quartet of the DIT Group (the other three being Stefan Hafner, Roberta Porrati and La Nouvelle) is distinguished for the rare and exemplary vision it brings to its craft, offering the sophisticated, fashionable woman one-off jewels of marvel.

Its collections of pendants, earrings and rings are a visual treat combining coloured combinations of precious stones such as diamonds, pink, yellow and orange sapphires, green zavorites and amethysts in rose, yellow and white gold settings.

Tawfiq Abdullah, Chairman of Damas Jewellery, said: "Io Si's jewels exude a strong, sculptured artistry that's both eye-catching and exotic.

Its ring collection is particularly noted for its 'reflected equilibrium' where the lower part reproduces in the miniature the distinctive forms of the upper section of the jewel.

It's a brand that brilliantly exemplifies the land of its origin, Italy for its highly artistic and glamorous creations."

Io Si has always delighted in surprising its wearer all over the world with jewels that stand out for their visionary and one-off touch.

In the hands of its designers gold and precious stones undergo unusual transformation and daring blends of tradition and modern, past and future. Among the 14 collections presented at Basel are the following:

Baccarat:
Inspired by the deepest and darkest red rose in history - the celebrated Baccara, which is called the Black Rose – this collection offers rings, pendants and earrings featuring the bloom in a highly artistic interpretation.

Its centre of attraction is easily its ring, sculpted to stand on its end with the pattern of its base reproducing an exact likeness of the upper section of the ring.