Spinning hoola hoop inspires Stefan Hafner Gypsy collection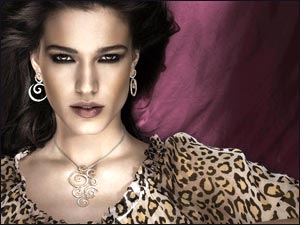 Stefan Hafner, the Italian jewellery house of scintillating repute, tempts the discerning jewellery lover with yet another delightful array of jewels such as necklaces, pendant chains, earrings and rings in its new Gypsy collection.

Designed from a combination of just two precious materials - white gold and white diamonds – Gypsy is a collection that brilliantly captures the spirit and vivacity associated with the lifestyle of gypsies in Hafner's signature style of design excellence.

"Stefan Hafner's style is immediately recognizable for its distinct artistry which immediately captivates your attention.

In the Gypsy collection it recreates the swirls of the hoola hoop in bewitching essence combining white gold and white diamonds to present vibrant pieces that can be worn by women of all ages.

As these creations have lightweight settings, they are effortless to wear as both day and evening accessories," said Mr. Tawhid Abdullah, Managing Director, Damas Jewellery.

With the Gypsy collection Stefan Hafner pays grand tribute to the carefree, joyous spirit of the nomadic tribes of the world, who are now a vanishing and even endangered lot.

And this the maestro does with a series of masterful swirls recreating the movement of the hoola hoop, a large hollow ring that is twirled around the waist, as a game or dance by gypsies.

He then takes several of these swirls and unites them in remarkable manner, to present striking and highly attractive drop earrings, chandelier earrings, pendant chains, necklaces and rings.