Originala outerwear line reborn as custom jewelry line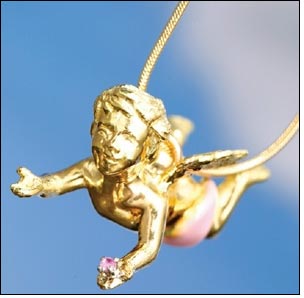 Originala, the mid-century line of high fashion outerwear, has been reborn as a custom jewelry line, featuring classics revived and reimagined for a new generation. In its new incarnation, Originala continues the legacy of creating classic pieces for the family, including charms, cufflinks, pins and pendants.

Originala's rebirth is the brainchild of creator Tracy Geller-Doyle, heir to the fashion family that owned and operated Originala and was inspired to reinvent Originala shortly after the birth of her son. "Originala is about memorializing family celebrations," said creator Geller-Doyle. "Our pieces empower clients to express themselves and their families to the world in a creative way." originala.net.

Disappointed with mass-produced jewelry, Geller-Doyle decided to create personalized pieces made the old fashioned way, including hand engraving and personal touches. Modeling her own creations led to the interest of others and soon she was taking orders for pieces that represented growing families and close friends.

Originala's newest piece, DreamBaby, is a customizable cherub inspired by Jennifer Rubenstein. Rubenstein started off as a satisfied Originala customer and became a Partner in 2007, adding her marketing skills to the mix. The peaceful Italian cherub is adorned with a pink or blue enameled blanket and semi precious stones.

DreamBaby is available in sterling silver, yellow or white gold and all pave diamonds. Charm Bracelets, Peace Medallions, DogTags and Family Pins can be personalized and are available in sterling silver, solid 14K gold, solid 18K gold, with semi-precious stones or pave diamonds.