Avon global ambassador Reese Witherspoon visits Japan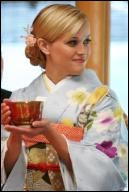 Avon Global Ambassador, Reese Witherspoon visited Japan to bring a message of empowerment and hope to the Asia Pacific region.

Ms. Witherspoon was the guest of honor at a traditional Japanese Tea Ceremony where she met female breast cancer survivors.

In addition to the tea ceremony, Ms. Witherspoon met with Avon Representatives and introduced the region to Avon's first-ever global fund raising product, the Women's Empowerment Bracelet.

In Tokyo, Ms. Witherspoon attended an intimate Tea Ceremony dressed in a traditional Japanese kimono, by a prominent kimono dresser, Midori Yogi. Ms. Yogi's family has dressed the Japanese Imperial Family for weddings since 1952.

The Tea Ceremony, which is a multi-faceted traditional activity designed to capture the spirit of healing the body, mind and soul, offered an open forum to discuss breast cancer issues and needs in Japan, which is a critical topic due to a high rate of breast cancer in the country and the Asia Pacific region.

At the Tea Ceremony, Ms. Witherspoon met Dr. Matsuda, Chairman of the Japan Breast Cancer Association, and three Japanese breast cancer survivors, and talked with them about the lack of breast cancer awareness and screening facilities.

"As Avon's Global Ambassador, I'm honored to have this opportunity to meet with such extraordinary women, and experience a highlight of Japanese culture" said Ms. Witherspooon.

"While their courage is inspiring, I was saddened to hear that only about 12% of women in Japan receive regular breast cancer screening.

The lack of testing equipment and breast cancer experts in Japan means that many women here do not have access to the medical technology and care that is critical to diagnose and fight this deadly disease."

"Avon has been committed to supporting women all over the world for more than 120 years, and as the company for women, we truly believe that empowering women will change the world," said Geralyn Breig, Senior Vice President and Global Brand President of Avon Products Inc.