Jeans with Tiffany-set Swarovski crystals & diamonds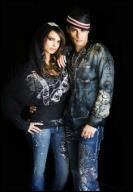 Bold. Brash. Sophisticated. Key Closet, the explosive clothing brand that's taken the fashion world by storm, announces its new $10,000 Jeans, the ultimate evolution in premium denim.

With over 1,000 Tiffany-set Swarovski crystals on each pair, plus hand-drawn designs and one-carat diamonds on each back pocket, the $10,000 Jean is sure to be the most coveted accessory of the summer.

"We are extremely proud of our $10,000 Jeans," says Key Closet founder Michael Hong. "Our design team has created a true work of art that will appeal to those who create trends rather than follow them."

The head-turning jeans have already garnered significant interest from top celebrities in the fashion and music industries.

In keeping with Key Closet's dedication to social responsibility, 30% of the profits from the sale of the $10,000 Jeans will be donated to help build a primary schools for children in Kampala, Uganda, giving them a chance for education and hopefully, making a brighter future for that community and the world at large.

Made in the USA of 100% handcrafted denim, the $10,000 Jeans feature an exclusive premium wash and grinding, along with an impeccable fit designed to showcase the unique and extraordinary detailing.

In keeping with Key Closet's reputation as a producer of artistic, avant-garde garments, the jeans' graphics are hand-drawn using a water-based paint that is soft and luxurious.

In addition to a variety of metal stud embellishment, the graphics are accented with foil and hand spray paint to enhance the look of pure glamour.