Nuance-Watson launches ecological skincare brand Amala at Changi store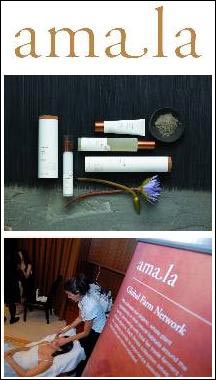 Nuance-Watson (Singapore) proudly presents the exclusive launch of top-class ecologic skincare brand Amala at its Singapore Changi Airport Terminal 3 operations. Launched in April 2008, the brand is currently used at selected 5-star spas in the United States.

"Perfumes & Cosmetics" operated by Nuance-Watson at Changi Airport, is the only place in the world where consumers are able to lay hands on this magnificent new skin and body care line with Ecocert organic certification.

The term "Amala" has a whole set of meanings: "most pure" in Sanskrit; "revered mother" in Tibetan; and "love her!" in Spanish. While it is of different meaning in different languages, the underlying message is about harmony, love and respect, in the sense of: If we love and respect nature as our origin and mother, nature will provide us with everything we need to nurture and heal ourselves.

Formulated with one hundred per cent whole plant ingredients and absolutely zero preservatives, petrochemicals, parabens or genetically modified agents, Amala is built on a heritage of love and respect for nature as the highest order, a means towards transforming the skin while safeguarding the planet.

Founder eco-environmentalist Ute Leube began blending her own skincare in the early 1970s. Over the years, she developed formulas through organic, regenerative farming practices for different skincare. Amala is the culmination of Ute's life work and understanding of the beautifying benefits of pure, whole plant ingredients, which she now proudly shares with the world.