Launch of Eco-Friendly PlanetWalkers by Simple Shoes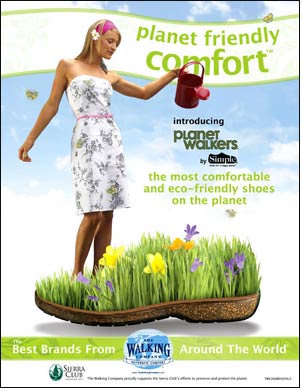 The Walking Company, the world's largest specialty retailer of comfort footwear, announced partnerships with smart USA and the Sierra Club for this summer's "Think Smart, Be Planet Friendly" promotion which will also feature the exclusive launch of Simple Shoes' new eco-friendly line of comfort footwear -- PlanetWalkers.

Simple's new PlanetWalkers will be exclusively available at The Walking Company during the promotion running from mid-July through the end of August. The partnerships with smart USA, distributors of the smart line of vehicles, and the Sierra Club, America's largest grassroots environmental organization, are geared to bring attention to environmental stewardship issues among consumers and generate excitement by offering a chance to win a new fuel efficient car every week during the month of August.

"We've always believed that comfort footwear is a smart choice and we're proud to offer our customers the best comfort brands from around the world," said Andrew Feshbach, CEO of The Walking Company. "When we can do that and offer the same quality with eco-friendly products we want to make a very big deal of it. That's what the 'Think Smart, Be Planet Friendly' event is all about."

The Walking Company has partnered with smart USA to give customers a chance to win one of four smart fortwo vehicles during the month of August. From its initial conceptualization to today's manufacturing, smart has adhered to strict Daimler AG (stock exchange abbreviation DAI) environmental guidelines in an effort to protect the environment, reduce energy consumption and innovatively preserve natural resources. "Think Smart, Be Planet Friendly" will heighten awareness of the benefits of the ultra-low emission vehicle and encourage more planet friendly transportation decisions.