Rio Moda Hype: first day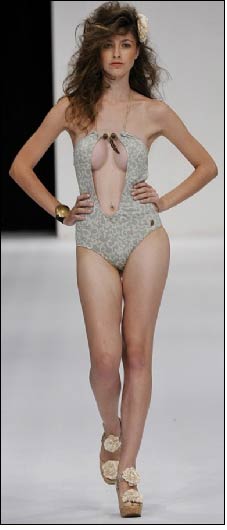 The first day of fashion shows at the 9th edition of Rio Moda Hype, at Fashion Rio, had the presence of six brands from several regions of Brazil: ADPAC, Stefania, Pure, Orichua, Tarcisio Almeida and R.Groove.

Check out below the highlights of each:
ADPAC (Rio de Janeiro) - Stylist Adriana Pacheco presented her "fourth dimension" collection, with the right to trip through the 70s. With a fun proposal, the clothes arrive in plain, prints or plaid natural fabrics. Pacheco suggests sarongs, bermudas and tank tops for him and her. Colors: green, blue, lilac and white.

Stefania (Brasília) - Stefania Rosa's "Looks" collection brings maxi prints of colorful looks. Modeling is deconstructed. Pants and dresses receive lateral volume. Relaxation is among the looks with a sportive air and light fabrics. White, black and beige and other vibrant colors make up the color chart.

Pure (Belo Horizonte) - Thiago Leão, Caio Vinícius and Julia Noronha developed a collection inspired on Mesopotamia, with light pieces. Hues of sand, spices and nuances of wood, off white and black are in the color chart. The brand opted for loose shapes and light fabrics.

Orichua (Lisbon/Florianópolis) - "Amazonas" is the theme for Orichua for the summer of 2008/09. The four elements (water, land, fire and air) drive the beachwear brand collection. The pieces have a retro cut, with rounded shapes.

Marta Neto and Keyser Braga wore hues of green, brown, beige, blues and yellow, among others, to create swimsuits and bikinis, as well as beach wraps and dresses. The patchwork stands out in the prints.

Leave your Comments
Recommended
Want to know what happened in the textile world this week? Watch now!
news category
---
Related Categories: