Esmod to arrange Fashion Workshop Summer Class in Dubai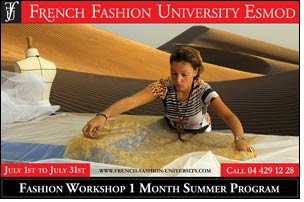 French Fashion University to set Esmod Dubai - Fashion Workshop 1 month July Summer Session class from July 1st to July 31st.

Anyone who wants to get into the industry and has a keen interest in Fashion and trends. Students who need a foundation course prior to entering in the BA degree program in September.

There will be no qualifications or experience need to get on the course. Student will achieve ESMOD Dubai 1 month Fashion Workshop Summer Class Certificate for this course.

To attend the course download the form here and call 04 429 12 28 or 050 356 26 50 to schedule a meeting to remit these forms for registration and payment. Continuous assessment and feedback will be given during the course.

This course lead to Higher level course in fashion design. Greater understanding of technicalities of design & garment making methodology.

Timing: Sunday to Thursday from 10 am to 4.30 pm

Course includes:
1: Principles of design: fashion drawing-mood boards.
2: Introduction to live model drawing
3: Fashion illustrations
3a: Developing personal signature style in fashion illustration
4a: Textile science
4b: Textile embellishment
4c: Pearl & beeds
5a: Introduction to the basics of Pattern drafting for women
5b: Flat pattern technic
5c: Draping technic
6: Fine Arts
7: Garment construction level 1
7a: Make your own Yves Saint Laurent skirt
8: Basic top design
9: Creative skirt & dress with draping technics
10: Fashion Portfolio.