Certain things are priceless & timeless just like a tuxedo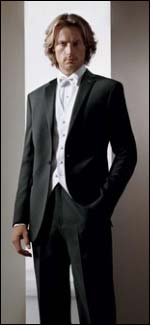 A black tuxedo has always remained in fashion for ages, it has magical power of making men look living gods! But one has to pay price for acquiring that killer instinct. International designers are constantly experimenting with fabrics, textures and cuts, to bring innovation in the century old classic garment.

The charismatic formal wear is worn mostly during weddings and elite occasions by men globally, as it reflects elegance and sophistication. Men who follow norms and live by old school of thoughts like their Black Full Dress Tailcoat teamed up with white vest and tie or a bow.

However, the younger generation is flexible enough to embrace the innovations that designers make to give them a trendy look. The fashion forward men have shown their interest in designs that come in wide variety and are dashing and daring at the same time.

The renowned fashion houses take pride in flaunting designs that mirror the aristocracy and gentlemen's nature. Although its only a pair of elegant jacket and classic trouser, it holds a prominent place in the hearts of men, as certain things are priceless and timeless just like tuxedo.