Lingerie collection by Emma mirrors feminine grace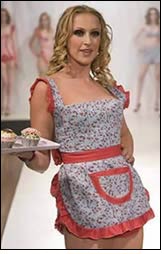 There have been numerous established international labels that design some of the most exuberant and sensual innerwear for women to make them feel beautiful. Recently, Emma Amies has joined the bandwagon with her brand Cupcake Lingerie.

Emma previously worked as a town planner and left the lucrative career to pursue her dream of becoming a fashion designer. In order to make her wish come true she joined the course at De Montfort University, Leicester to learn the fine nuances of designing.

Recently Emma showcased her Cherry Pie collection and received great reviews for her work from the professionals belonging to fashion industry. As the name suggests this lingerie line is created using prints in lovely shades of red and blue with beautiful embellishments.

The entire inner wear collection is extremely sophisticated and ethically designed that perfectly mirrors feminine charm and charisma.