Bahia designer seizes fashion grounds in Emirates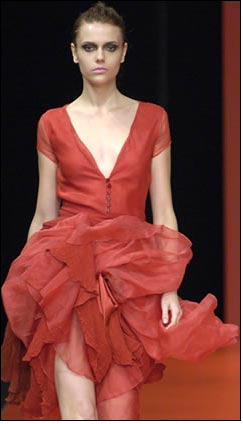 Márcia Ganem, a well known fashion designer from Brazilian state of Bahia has earned the reputation for developing most of her fantabulous collection from polyamide fibre which is a highly resistant artificial synthetic fibre.

With help of the embroiderers' communities, this designer has managed to export her unique creation to eight countries including Saudi Arabia, United Arab Emirates and Bahrain. Her work which largely includes handicraft lace, stones and embroidery, has been widely acknowledged in Arab countries.

Márcia's collection features an array dresses, blouses, skirts, pantaloons, corsets and even elaborately crafted wedding gowns. Being a native of Brazil, the designer never fails to attend Fashion Rio, a fashion week in Rio de Janeiro that attracts a large crowd of international buyers.

Apart from this, Márcia also exhibited her line of fashionable garments in the Beautyworld Middle East in June this year which is a trade fair for cosmetics held in Dubai.

In November again, the fashion maestro will visit emirate to attend the Brazilian fashion week 'Brazil Fashion Now' in Dubai. The event will showcase a variety of shoes, purses and jewelry made in Brazil and will be promoted by the Brazilian Textile and Apparel Industry Association, the Brazilian Clothing Designers Association, the Brazilian Institute of Gems and Precious Metals and others.