Indigo batik - a rage among global buyers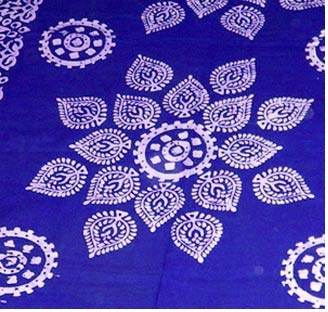 The least one can do to protect the environment is to opt for garments that are made from natural fabrics and dyes. The fashion savvies have taken this message quite seriously, as the demand for eco friendly fabrics has increased. Hoever, fashionistas are wearing indigo coloured garments not so much to save the planet, but to draw attention and make style statement.

One of the recent rages in global market is indigo dyed batik fabric. To make the most from this situation, even the Indonesian artisans who were previously following age old methods and patterns to produce batik artifacts have open heartedly accepted the change.

Batik is a method of creating patterns or designs on cloth by the wax resist technique. It is a three stage process of waxing dyeing and de-waxing. The artisans mixes extract of indigofera leaves with water to get deep blue colour, which unlike regular colouring method, is eco friendly. The results are best on natural fabrics like cotton and silk that absorbs the colour completely.

Indigo made batik is later designed into various garments like skirts, sarongs, tops and traditional attires. The fabric is also picking up fast in home furnishing segment with motifs ranging from mythological figures to geometrical designs.

Indonesia is regarded as the cradle of batik that has progressed with changing times. It has been successful in keeping its charm intact. Throughout Indonesian batik history, one can trace out the fact that, the sector has grown strength to strength by embracing new techniques.