New Era to work with music brand Zune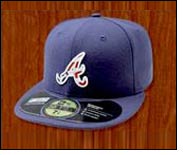 Music, fashion and entertainment three things New Era and Zune have in common. And for the next year, the two brands will collaborate on limited-edition caps, podcasts and events targeted at the music-loving, trend-setting, lifestyle-conscious consumer.

As the leading headwear designer and manufacturer, New Era will work with Zune, Microsoft's music and entertainment brand, to create four (4) limited-edition 59FIFTY caps that will feature custom designs from musical artists.

To complement the release of each cap, Zune will produce a limited number of customized digital media players featuring the cap design.

"When you look at New Era and Zune, you can see that both target similar consumers with similar tastes," said Gerry Matos, Senior VP of Marketing at New Era.

"In partnering together, we continue to be part of the trend that bridges the gap between music and fashion in our respective industries."

As part of the partnership, New Era will create a podcast series that will be available exclusively on Zune Marketplace and New Era's website for a limited time.

The podcasts will feature original programming including 5-7 minute segments on fashion, entertainment, music and sports.

There will be 28 webisodes that will feature exclusive collaborations with celebrity artists and musicians of various musical genres. Two podcasts are set to be released each month beginning on July 22.

The first podcast entitled "Drummer Boy" will feature an exclusive interview with Travis Barker, one of the leading influencers of music, fashion, and media.

"Rampage" will feature UFC Light Heavyweight champ Quinton "Rampage" Jackson discussing his evolution as an athlete as he has become one of the world's best fighters.

Also scheduled is a tribute to Design and Innovation in the worlds of fashion, technology, publishing, marketing, film, and music.

This segment will feature interviews with art directors, designers, and editors from industries that matter to global youth culture.

"Teaming up with a brand like New Era is a natural fit for us," said Damian Bulluck, Senior Manager of Product Marketing for Zune. "It allows us to continue to deliver unique content and experiences that blend music, fashion, and entertainment."

To celebrate the launch of each limited-edition cap, New Era and Zune will host quarterly release events at one of New Era's Flagship stores or at Zune L.A., a new venue created to bring the Zune brand experience to life through creative expressions of art, music and technology.

The intimate events will feature:
- New Era limited-edition caps and Zune devices on display
- Celebrity appearances and performances by collaboration artists
- Guest celebrities and live deejay sets
- Autograph signings and limited signed merchandise
- VIP areas with full bar amenities

The kick-off event will be July 8that Zune L.A. and will coincide with the launch of the Travis Barker limited-edition cap.