Premier KIDS event enters new era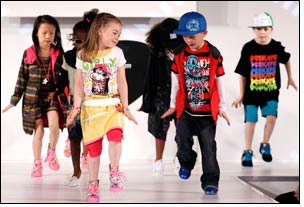 Premier KIDS saw buyers from department stores and independents writing orders with new and existing suppliers showing. Amongst them were; Harrods, Fenwick, Bentalls, Williams & Griffin, Trotters, Hopscotch, Kids Cavern, Just Kidding and Biff.

Premier KIDS talked positively amongst its buyers and exhibitors regarding the change of dateline for the Autumn/Winter edition. Premier KIDS will show alongside Spring Fair on 1.2.3. February 2009 and will retain its full identity in Hall 16.

Feedback from attending buyers was overall positive and some very encouraging comments were made. Marie Archer, Buyer from Fenwick concluded: -'The show was a little bit smaller, but we certainly found what we were looking for. Teaming up with Spring Fair doesn't change our buying much – we do both shows and will continue to do both shows. The dates are slightly later, but it's not a cause for concern'.

Louise Ingham, Buyer at Bennetts also reflected on the show saying;
-'I have come to Premier KIDS for years. I come to do buying for the next season, looking for new things and seeing my regular suppliers. It is the only children's show I choose to visit. It is nice to see everyone under one roof rather than having to travel around various showrooms; coming to Premier KIDS is very convenient.

Estelle Room and Vanessa Wooding, both Buyers from Seren agreed:
-'We have come to Premier KIDS for the past 7 years mainly see what the next season is all about, see our suppliers and to scout for new brands. We like to come here and enjoy the Midland location rather than a London location, not so far to travel. We do just one show and Premier KIDS fulfils our needs; the rest can be done from showrooms. Teaming up with Spring Fair is a good idea; it is a very busy show, and joining the two will ensure we will definitely attend'.

Irish Buyer Emma Colleary Buyer for Serendipityki, expressed her reasons for visiting: 'Premier KIDS gives you the opportunity to access the overall market, to validate the current suppliers and to source new ones. It's great to come here seeing them all under one roof. I have placed several orders today both with new and existing suppliers. I have enjoyed this year, it's relaxed a little quieter but very pleasant.

Well prepared exhibitors were busy from start to end; Michael Richfield from Kissy Kissy tells us; 'during Sunday we opened up 9 new accounts and Monday we took 22 orders from across the UK – including new Russian overseas clients. The change in footfall has meant that the 'time wasters' have vanished leaving the core buyers, who come to write orders.

We are in the babywear and gifts market, a market that remains strong. It is essential to make appointments prior to the show as the competition is hard. Today's appointments -all 22 of them turned up on time. We are showing at the next Premier KIDS show alongside Spring Fair and everything is booked'.