Established Brands acquires exclusive license to Wenger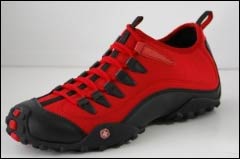 Established Brands announced that it has acquired the exclusive worldwide license to the Wenger – maker of the Genuine Swiss Army Knife – footwear brand, including all Wenger shoes and socks/hosiery for men, women and children. The inaugural Wenger Footwear line will be formally launched in August 2008, during the Outdoor Retailer Tradeshow in Salt Lake City.

Established Brands will be responsible for all aspects of the brand – product design and development, manufacturing, global marketing and distribution – for Switzerland-based Wenger SA, maker of the world-renowned Swiss Army Knife. Wenger, founded in 1893, is now in its fifth generation of family ownership and management.

"We are deeply honored that Wenger SA has entrusted us with developing and managing all footwear for one of the world's greatest and most distinctive brands," said Ron Page, co-founder and chief executive officer of Established Brands.

"We are fully committed to continuing the tradition of high quality that has been synonymous with the Wenger Swiss Army Knife for more than 114 years. The entire footwear collection will incorporate the same core qualities as the knife: remarkable ingenuity, functionality and craftsmanship."

"The Wenger brand, with its SwissGear sub-brand, is extraordinary in that it crosses almost all socio-economic and lifestyle lines and resonates with people in virtually every market around the world," added Tom Seavey, co-founder and chief operating officer of Established Brands.

"The famous Wenger cross logo delivers a promise that everyone can feel good about, whether it's an outdoor enthusiast buying our boots for a serious backcountry adventure, a high school student buying their first pair of hiking boots or a fashion conscious consumer enjoying our unique cross-over collection."

Seavey noted that in market research performed in 2007 by KSA/NPD Group, a New York market research company, the iconic Swiss Army Knife cross logo achieved 93 percent "unaided awareness" recognition (i.e. people associated it with Swiss Army Knife and/or SwissGear without guidance), and received "very favorable" ratings from more than 96 percent of respondents.

The Established Brands leadership team – Page, Seavey and chief creative officer Read Worth – have a combined 60 years of successful experience leading a host of major product design and development projects, branding campaigns and product launches for the world's preeminent footwear and apparel brands, including Ralph Lauren, Fila, Ellesse, Sergio Tacchini, UGG, Teva, Puma and Nike.

Page was a principle of Deckers Outdoor Corporation which brought Teva Sport Sandals and UGG boots to the marketplace. Seavey was Nike's top distributor and instrumental in the growth of Nike's tennis line. Worth led the largest design team at Nike, designed Dockers for Levi's and served as creative director and general manager of the Ralph Lauren RLX division.