BioMoGo, the world's first biodegradable shoe introduced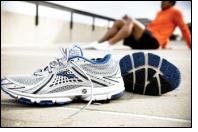 Leading performance running company Brooks Sports Inc announced that BioMoGo, the world's first biodegradable midsole, is now available to consumers in the new Trance 8 premium support shoe.

Brooks designed BioMoGo to biodegrade 50 times faster than conventional athletic shoe midsoles, making it one of the most significant sustainable technologies to hit the running footwear market.

BioMoGo midsoles include a non-toxic, natural additive that exponentially increases the rate of biodegradation by encouraging anaerobic microbes to break down nutrients into reusable byproducts.

While traditional Ethylene Vinyl Acetate (EVA) midsoles can last up to 1,000 years in an enclosed landfill, extensive tests have proven that BioMoGo can biodegrade in roughly 20 years when placed in the same environment. By using BioMoGo in its shoes, Brooks will save nearly 30 million pounds of landfill waste over a 20-year period.

Although the application of BioMoGo technology to footwear involves valuable intellectual property, Brooks decided at the outset that it would treat its new midsole discovery as an "open source" innovation and share it with other footwear manufacturers and interested industries.

"Environmental stewardship is an important business pillar for Brooks, and we're committed to creating products that help preserve and, whenever possible, enhance the environment," said Jim Weber, president and CEO of Brooks.

"Sharing BioMoGo presents a chance for greater environmental impact beyond Brooks and supports the spirit with which it was created."

Without losing durability or performance, BioMoGo will begin to break down only when retired shoes encounter the "triple convergence" of high microbial load, low oxygen, and adequate moisture found in active, enclosed landfills.

These three environmental conditions cannot be found in places where shoes are worn or stored. Once shoes have been thrown away and buried deep in an active, enclosed landfill, BioMoGo begins to break down into its component nutrients and releases carbon that plants and animals can use for growth.

"BioMoGo is one of the first cradle-to-cradle product solutions developed for athletic gear," said Derek Campbell, materials engineer for Brooks' Future Concepts team.

"With the success of BioMoGo, we're continuing to explore additional sustainable materials and production solutions that will benefit the earth for generations to come."

In addition to landfill reduction, BioMoGo's production process is derived from the same Compression Molded Preform (CMP) midsole manufacturing process used to produce Brooks' industry-leading MoGo midsole.

CMP is an efficient, environmentally friendly production method that reduces material waste by 50 percent and increases material consistency by 200 percent.

Brooks chose to launch BioMoGo in the Trance 8 due to its wealth of high-performance footwear technologies, which won its predecessor, the Trance 7, the coveted "Editor's Choice" award from Runner's World in August 2007. All Brooks performance running shoes featuring MoGo will inherit ground-breaking BioMoGo by the end of 2009.