Beauty, trends – get ready for a business oriented trip in Asia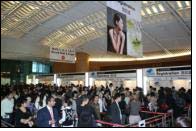 COSMOPROF ASIA, the premier beauty event in the Asia Pacific region, is getting ready for its 13th edition, which will be held from 12 to 14 November, at the Hong Kong Convention & Exhibition Centre.

This trendsetting event takes place in Hong Kong, Asia's international business hub and, each year, confirms its global role as the world's second most important beauty event. With its 48,000 sqm of exhibition space, the fair is surpassed only by the giant Cosmoprof Worldwide Bologna.

This event offers a winning formula: exhibitors from almost 40 countries and regions who display all the hottest in beauty, plus 17 national and group pavilions that showcase the distinctive products of their countries, will match with nearly 40,000 qualified visitors from about 100 countries and a wide range of international buyers.

In brief, this is a unique opportunity to do business in one of the world's most strategic and fastest growing industries.

Key to the internationalisation of the show is the International Buyer Programme, which in 2008 focused on attracting buyers from India, Japan and Australia.

Shinji Nagashima, Managing Director of The Cosmetic Importers Association of Japan (CIAJ), commented on the programme: "CIAJ wishes to express its gratitude for the chance to participate in the first International Buyer Programme and to make a presentation about the Japanese market.

We found it an innovative and significant opportunity for both exhibitors and attendees to promote new business opportunities."

He added: "In the days when globalisation in the cosmetics business is advancing fast, imports and exports of cosmetics are increasing continuously.

We are convinced that the Buyer Programme will be appreciated as a unique and valuable opportunity for the further expansion of the international beauty business."

A tailor-made business sourcing trip in Asia:
As a result of the continuous growth of COSMOPROF ASIA, and in order to provide buyers and visitors with a tailor-made and more effective sourcing platform to locate their resources easily at the exhibition venue, the Organiser divided all exhibits into five themed sectors.

They are:
Cosmoprof Asia RETAIL-DISTRIBUTION (Perfumery, Cosmetics & Toiletries - Hall 1):
A glittering showcase of Perfumery, Cosmetics & Toiletries, accessories for hygiene and gift items, equipment and accessories for perfume shops, marketed through retail distribution in specialty stores, chain stores, department stores, gift stores and drug stores.

Cosmoprof Asia NATURAL HEALTH: the Asian laboratory to healthy living (Hall 1):
A unique and not-to-be-missed inspirational source about what's hot in the natural beauty industry, including the products showcase, lectures, and on-stage demonstrations about trends, new lifestyle products, techniques and services related to healthy living.

Cosmoprof Asia PACK (Packaging, Raw Materials, Machinery, Private Label and Contract Manufacturing - Halls 2, 3 & Mezzanine 2):
Devoted entirely to the supply chain, Halls 2 and 3 provide an overview of raw and semi-processed material providers, contract and private label manufacturers, packaging and machinery suppliers, and package designers.

Cosmoprof Asia BEAUTY SALON (Beauty Salon products and equipment for professional use - Halls 5 & 7):
A large display of all the latest in the professional industry of Beauty Salons, including professional beauty, spa and medical spa products and equipment, articles and equipment for nails.