Al Jaber celebrates high style with D&G Sun Collection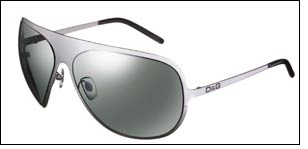 Al Jaber Trading adds a touch of drama to the look of summer with D&G Sun Collection 2007/2008 for men and women. Blending high quality technology and materials with the finest workmanship, the trendsetting Italian brand offers models that are stylishly elegant. The women's models tout a Diva look with wraparound features, Swarovski crystals and a distinctly 70's flair while the men's models sport a smaller, rectangular and clean designs adorned with the D&G logo in metal.

"Founded in 1982 by Domenico Dolce and Stefano Gabbana, the luxurious Italian fashion house D&G has created a steady following which includes celebrities Madonna and Kylie Minogue. This latest collaboration presents some of the most imaginative creations inspired by music and freedom. The latest D&G Sun Collection 2007/2008 offers fine eyewear that will set its wearer apart from the rest," said Ahmed Jaber, Managing Director of Al Jaber Trading.

Women's Sun:
D&G 8042B
A distinctly 60's look endows this plastic model with a wide, rounded shape and a flattering thickness most famously sported by the likes of Audrey Hepburn and Jacqueline Kennedy. It is personalised by the D&G logo on the arms and the lugs, decorated with Swarovski crystals. The model comes in a classic colour palette of black, tobacco, white and sand.

D&G 8040
Square features with wide front emphasise this model's bold look. Its arms are linked to the front with a precious gold or silver detail matching the D&G logo in the same colour. The frame is offered in colours ranging from silver or gold and black with a glitter effect, to white and tobacco while its lenses come in hues such as smoke, gold mirror, silver mirror, shaded smoke or brown.

D&G 8035B
Crafted in glossy plastic with a mask-style lens, this model has a curving, feminine shape. Its generous arms tout the D&G logo in italic lettering adorned with Swarovski crystals, giving it a sporty, glamorous look. It comes in a wide colour palette from black to tobacco, white, purple, sand and red with solid or shaded lenses in smoke grey or brown.

D & G 3014
In this model, a slim outline on a rounded emphatic shape presents a 70's style look. Its arms are decorated with a small D&G logo and carry a gold or silver metal accent near the temple. This model is offered in a wide array of colours playing on the contrast between the front in matte or white glass and arms in glitter gold. Its single colour version is available in black, tobacco, white, red, beige and purple while lenses come both in solid or shaded, in smoke grey or brown, and in gold or silver mirror too.

Men's Sun:
D&G 8031
Sleek, super good looks give this plastic wrap-around model a snug fit that's perfect for high action. Its D&G metal logo in silver, gold or gunmetal complement the frame in shiny black, tobacco, blue and grey. Its lenses are available in smoke, blue smoke, brown or silver mirror.