BDH to subscribe for €10.0m of new equity in MBFH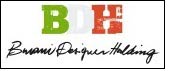 Burani Designer Holding N.V. a company offering Italian lifestyle products and services to customers world-wide, announces a partial tender offer for up to 4,486,154 shares in its subsidiary Mariella Burani Fashion Group S.p.A.

The partial tender offer is priced at €17.50 per MBFG share and represents up to 15% of the share capital of MBFG. As part of its interest in MBFG, BDH currently holds a 60.9% direct stake.

Structure and group reorganisation The offer will be made by a subsidiary of BDH, Mariella Burani Family Holding S.r.l. ("MBFH"), a company which has been acquired by BDH from the Burani family (the controlling shareholder of BDH) for nominal consideration for the purpose of making the partial tender offer. BDH will also transfer its direct interest in MBFG to MBFH in exchange for further shares in MBFH.

The cash consideration of up to €82.5m (including costs) payable by MBFH will be funded as follows:
• BDH will subscribe for €10.0m of new equity in MBFH;
• The Burani family will subscribe for €6.0m of new equity in MBFH;
• MBFH will issue €20.6m of preference shares at par to third party investors. The preference shares carry a 12% coupon and are redeemable in 2010 at either MBFH's or the investors' option; and
• MBFH has subscribed for new debt facilities of €45.9m. If the partial tender offer is not fully taken up, these respective contributions will be scaled back pro rata.

Depending on the take up of the partial tender offer, BDH will hold not less than 92.5% The Chairman of MBFH will be Walter Burani (also Chairman of MBFG).

The other directors of MBFH will be Giovanni Burani (Chairman of BDH and CEO of MBFG), Giuseppe Gullo (CFO of BDH and CFO of MBFG), Davide Enderlin (Non Executive Director of BDH) and Stefano Maria Setti.

All MBFH directors have been nominated by BDH and are appointed for a three year term. Timing It is envisaged that the partial tender offer will be completed in October 2008.

Other The partial tender offer is being conducted in order to increase the BDH's interest in MBFG, taking into consideration the current market price of MBFG shares, which BDH believes is attractive.

The impact on BDH earnings of the proposals will depend on the future performance of MBFG.

Burani Designer Holding N.V.