OMEGA Watch Pavilion earns 48 Olympic medals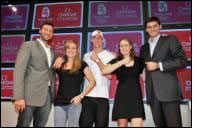 OMEGA's five swimming ambassadors who gathered at the Swiss watchmaker's Pavilion on Wednesday have earned a staggering total 48 Olympic medals among them, anchored by the 16 held by Michael Phelps, the most decorated Olympian of all time.

Phelps was joined on the stage at the Pavilion by his fellow OMEGA ambassadors Natalie Coughlin, Katie Hoff, Alexander Popov and Ian Thorpe.

Together they have broken dozens of world records and amassed hundreds of gold medals in international competitions.

More than 200 members of the international press crowded the Pavilion's display area, enthusiastic about seeing some of the greatest swimmers in the history of the sport on the same stage.

MICHAEL PHELPS: "I NEVER STOP BELIEVING IN MYSELF."
During a question and answer period onstage, Phelps said, when asked how he reacted to people who had expressed doubts about his ability to win gold medals in all eight of his Olympic events, that he was motivated by their comments. "I never stop believing in myself," he replied. "I still believe in myself."

IAN THORPE: "I'VE NEVER BEEN SO HAPPY TO BE WRONG!"
It was pointed out that Australian Ian Thorpe had been among those who had expressed reservations about Phelps's ability to win all eight gold medals.

Thorpe quickly replied that he had not said that Phelps could not win all eight events but that he had thought, given the nature of the competition that it would be nearly impossible. Phelps nodded in agreement as Thorpe added, "I've never been so happy to be wrong about something."

ALEXANDER POPOV: NO PLANS TO RETURN TO COMPETITION
Alexander Popov, one of the greatest sprinters of all time, was asked if the Dara Torres's successful Olympic comeback at the age of 41 encouraged him to consider returning to competitive swimming.

"Not at all," the Russian replied. No nagging voices in the back of his head? Popov answered, "The voices in the back of my head say, 'Don't do it' and I listen to those voices."

NATALIE HAS ELEVEN OLYMPIC MEDALS
Natalie Coughlin won medals in all six events she entered at the Beijing 2008 Olympic Games, the highest total in any Olympic Games by an American woman; she now has a career total of eleven Olympic medals.

Upon first arriving at the Olympic Green, Coughlin commented that she was smitten by the colour of the National Aquatics Centre of "Water Cube."

"It's the most amazing shade of blue and I was excited about the fact that I'd get to swim there. I think all of us are taking away some great memories of that pool."

KATIE HOFF - THREE OLYMPIC MEDALS . . . SO FAR
Katie Hoff, who at 19 is the youngest of OMEGA's swimming ambassadors, won three medals in Beijing. "It's been a great experience and it's wonderful to be part of the American team we have a lot of contact with athletes from every sport and it's a really special atmosphere." Will she allow herself sometime off? "Yes, I'll take a break and then I'll go back to work."