Cocktail rings latest fad among fashionitas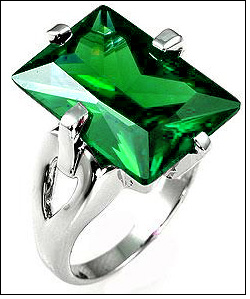 This year cocktail rings are the latest rage among fashionistas world over. Huge solitaire, amethyst, sapphires, emeralds, topaz set in silver, gold and platinum are busy attracting eyeballs of women who have special place for rings in their heart. The radiance of precious stones enhances the beauty of the wearer that effortlessly makes her grab all the attention at parties.

The general rule is that the bigger the stone, the better it is. The cocktail ring is supposed to catch and dazzle the eye and is suppose to be opulent and slightly overdone. One of the major reasons of glitteratis going gaga over this piece of jewellery, is that once you wear it, no other ornament is required.

Famous designers and houses are busy experimenting with those huge rings that had once beautified the hands of Kings and Queens.

Finger rings have always been one of the most essential part of accessories but it had never come forward as a jewellery piece like ear-rings or necklace that alone enhanced the look of garment.

However, this year, the delicate yet sophisticated looking ring has taken a dramatic turn and has left other fashionable add-ons far behind in the race of popularity.