Natural fabric inspires Zegna for spring summer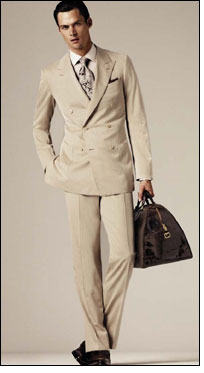 Ermenegildo Zegna launches SPRING SUMMER 2009. "Couture"' is the pinnacle of the Ermenegildo Zegna tailoring offering, characterised by rich luxurious details, noble materials and the trademark cross-stitch. The "Couture"' Line is refined and exquisitely elegant, and has been created by our designers for men who dress for pleasure and rejoice in the beauty of cloth.

"Couture'" suits are the ultimate in hand crafted tailoring. Made in our Italian artisan factories, each suit is fully canvassed, cut, constructed and sewn solely by hand and fashioned from the world's finest fabrics, with each garment requiring over 33,000 stitches and 18 hours of skilled craftsmanship.

ULTRA LIGHT SUITS - A new absolute standard of perfection has been created, the result of dedicated research and development by the Lanificio Zegna: 'Ultra Light Suits', created from fabric weighing 220 grams per metre.

The 'Ultra light Suit' is cut from the innovative and luxurious 13MILMIL13 cloth, woven with wool fibres measuring 13 microns in diameter, which is the equivalent of a Super 200. The fabric is distinguished by the extraordinary finesse of its fibres, its pleasing touch, extreme comfort and long lasting properties. This is an exclusive fabric produced from superfine merino wools in limited quantities. Ideal for those who are fond of the highest ready to wear sartorial tradition and desire the lightest weight tailoring imaginable.

SARTORIA COLLECTION - The "Sartoria" collection redefines classical Italian style, with traditional tailoring and contemporary elegance. It offers a sophisticated summer business wardrobe, immersed in Italian heritage, for the successful man who expresses his individuality through immaculately cut tailoring.

COOL EFFECT – This seasons leading innovation is 'High Performance Cool Effect', blazers in the collection offer protection against the heat produced by natural sunlight, by reflecting the suns rays. The classic 'High Performance' woollen fabric from the Lanificio Ermenegildo Zegna is given an exclusive wash treatment. This enables the surface of dark fabrics to replicate the properties of white fabrics, reflecting 80% of direct sunlight, where they would normally only reflect 20%, thus minimises heat build up and cooling the effect of the summer sun.

The 'Cool Effect' treatment does not effect the fabrics handle which remains light, soft and sumptuous offering the wearing not only an impeccable appearance but also maximum comfort in hot climates.

TROFEO 600 – 'TROFEO' is a legendary Ermenegildo Zegna suit fabric owing its name to the excellence of the raw materials used in making it. From this acclaimed fabric, Lanificio Ermenegildo Zegna has developed a refined version, 'TROFEO 600'. The most precious of wools is woven with 15% naturally lustrous silk. The measure of the silk count is 600. The 600 silk yarn is the finest existing on the market, as it is five times finer than ahigh quality wool yarn.